DEREK IS A GIRL. He wasn't one of the boys as a kid. He admired, befriended, and socialized with the girls and always knew he was one of them, despite being male. That wasn't always accepted or understood, but he didn't care — he knew who he was. Now he's a teenager and boys and girls are flirting and dating and his identity has become a lot more complicated: he's attracted to the girls. The other girls. The female ones.

This is Derek's story, the story of a different kind of male hero — a genderqueer person's tale. It follows Derek from his debut as an eighth grader in Los Alamos, New Mexico until his unorthodox coming out at the age of twenty-one on the University of New Mexico campus in Albuquerque.

This century's first decade saw many LGBT centers and services rebranding themselves as LGBTQ. The "Q" in LGBTQ is a new addition. It represents other forms of "queer" in an inclusive wave-of-the hand toward folks claiming to vary from conventional gender and orientation, such as genderqueer people. People who are affirmatively tolerant on gay, lesbian and transgender issues still ask "Why do we need to add another letter to the acronym? Isn't anyone who isn't mainstream already covered by 'gay' or 'lesbian' or 'bisexual' or 'trans'? I'm all in favor of people having the right to call themselves whatever they want, but seriously, do we need this term?" Derek's tale testifies to the real-life relevance of that "Q." This is a genderqueer coming-of-age and coming-out story from an era long before genderqueer was trending.
ISBN-10: 1632932903
ISBN-13: 978-1632932907
LCCN: 2019049386

"In a world of increasingly complex gender identity issues, Genderqueer transcends labels and categorizations. It tells the story of one person's voyage outside the box at a time when there was no roadmap for the journey. This book extends a warm, open and affirming hand to people who are struggling to understand their own personal mix of gender and sexuality — and to those who want to understand and support their quest."
— Susan F. Edwards, editor, author, journalist
"Having facilitated 20Something, a queer support group in New York City, for many years, I have observed many of our young members explore a variety of experiences that speak to the development of their gender identity and sexual orientation. When Allan Hunter was our guest, his storytelling and amusing anecdotes helped open conversations they may never otherwise have on their own exploration of gender. We know Allan's book will be a valued resource for many queer youth."

— Nicholas Tamborra, Organizer, 20Something
"Allan Hunter's story highlights what it means to find that engrained understandings of how gender was understood in the late 20th century failed to accommodate individuals that did not fit the binary standards."

— Ann M Peiffer, PhD, Women's and Gender Studies Program, Mars Hill University
"The book makes it plain that the
'Q'
recently added to the LGBTQIA+ is necessary because the "T" for transgender doesn't necessarily cover all of the individuals in the category of
'anyone whose gender is different from what people originally assumed it to be...' "
—
Noah Young. The Clock
— Plymouth State Univerity
"Allan Hunter's debut book
Genderqueer: A Story from a Different Closet
takes a personal look at the topic of gender and the dilemma that comes from not conforming to gender norms. The book brings up an important conversation that needs to be addressed while taking a deep dive into the term
genderqueer
."
—
Arielle Gulley. Daily Utah Chronicle
— University of Utah
"This memoir is a personal journey about a person who has lived a life struggling to accept who they are based on the reactions of those around them. A lot of the book is hard to read, hearing how cruel people can be. But I recommend this book to anyone who wants to understand gender and sexuality on a deeper and more intimate level."
—
Never Retallack. The Western Howl
— Western Oregon University
"...A very raw, at times heartbreaking and at times creepy, but uplifting story of finding out who you are... regardless of what the world says you should be."
—
Margaret Adelle
(Goodreads)
"Although the book is described as a memoir, it reads like fiction. This makes the book compelling and enjoyable to read, and it is far more effective than if the author had approached the topic as a textbook might...
GenderQueer
is honest, intimate and at times, uncomfortable. The protagonist is extremely vulnerable, bringing the audience into private moments and personal thoughts."
—
Jaime Fields. The Whitman Wire
— Whitman College
"This is a fascinating story about one man's journey. I learned so much from this book. I always thought gender and sex were the same thing, and they are not. This was such an eye opener for me.
...sometimes knowing I'm not alone, that there are others like me is freeing, and that I'm not weird I'm just queer. It's truly liberating to find I do belong. Nobody should have to hide who they are.
—
Justine Smith. (GoodReads)
"The discussion around gender identity and sexual orientation has progressed exponentially in the past decade. Same-sex marriage became legal nationwide only five years ago, and the LGBTQ community continues to fight for equal rights. With this constant push for change, some can only imagine the struggles of coming to terms with your gender identity during the late 1960s and 1970s.


GenderQueer: A Story From a Different Closet
offers an eye-opening view into the upbringing of a gender-nonconforming person in an era when many people didn't know such an identity existed..."

—
Camryn DeLuca. The Diamondback
— University of Maryland
"Derek says he came out of a different closet, but the same door. The "door" represents the struggle one faces about discovering his identity and/or his sexual orientation. The "closet" represents the harboring of one's gender identity and/or sexual orientation, a secret that is not meant to be a secret. Derek's decision to wear a denim wraparound skirt showcased he had come to terms with his identity and was no longer inside the closet"

—
Aazan Ahmad. The Pinnacle
— Berea College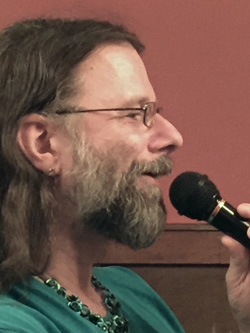 ALLAN D. HUNTER lived in New Mexico from 1973 to 1984 before emigrating to New York to become a gender activist. He received a degree in Women's Studies and graduate degrees in Sociology and Social Work and worked with psychiatric patients' rights groups and gender identity support groups. He later served as elder abuse case worker in the Bronx. His truncated academic career included publication of a short but groundbreaking theory piece, "Same Door Different Closet: A Heterosexual Sissy's Coming-Out Party" in a peer-reviewed journal, Feminism & Psychology. The original manuscript for this book received an award in a Cisco Writers Club competition.
Allan is available to lecture on gender issues and share his personal story at universities, LGBTQ organizations, and other venues. He also frequently blogs on these topics.